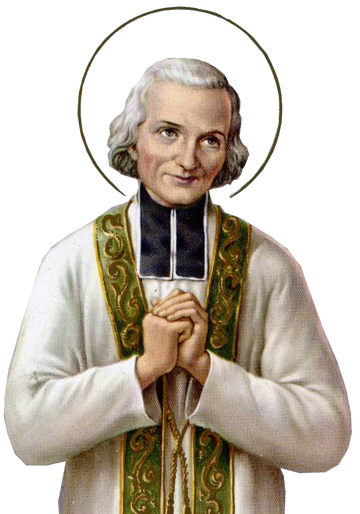 St John Vianney
Universally known as the " Cure of Ars " , St Jean-Baptise-Marie Vianney was born on May 8th, 1786, at Dardilly, near Lyrons, France. Armed with a meagre primary school education and defective talents, he nevertheless was ordained priest in 1815 and for a time did parish work at Ecully.
The turbulence of the French Revolution marked St John Vianney's childhood.
In 1818 he was made parish priest of Ars, a remote French hamlet where his reputation as a confessor and director of souls made him known throughout the Catholic world. He realized many were either ignorant or indifferent to religion as a result of the French Revolution.
He spent up to twelve hours each day working to reconcile people with God. His fame spread until people began to travel to him in 1827. His life was one of extreme mortification. Within thirty years, it is said he received up to 20,000 pilgrims each year.
He heard confessions of people from all over the world for sixteen hours each day.
His life was filled with works of charity and love. The staunchest sinners were converted at his word.
He died 4 August 1859.
St. John Vianney would often say: "Private prayer is like straw scattered here and there: If you set it on fire, it makes a lot of little flames. But gather these straws into a bundle and light them, and you get a mighty fire, rising like a column into the sky; public prayer is like that."
The Cure of Ars would himself reflect that not all saints started well. But they all finished well, and however we may have started we must finish well - we must all of us in the end finish as saints.
In the fields outside the village on his way to Ars, St John Vianney came across his first parishioner, a young shepherd boy by the name of Antoine Givre. St John Vianney asked him if he could show the way to Ars :
' My young friend, " You have shown me the way to Ars; I shall show you the way to Heaven. "
On October 3, 1873, Pope Pius IX proclaimed Fr. Vianney as "venerable" and on January 8, 1905, Pope Pius X beatified him. St. John Vianney was canonized on May 31, 1925. His feast day was declared August 4.